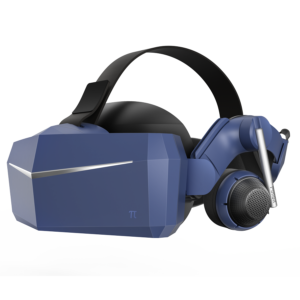 For those watching my VR streams you might know that I am using a Pimax 5K Super VR Headset. I bought it last year to replace my Oculus Rift S which had tracking issues in my well lit living room. I initially wanted to get the Valve Index, although it was not availible at the time and Pimax had a VR 2.0 upgrade promotion where you had to send in proof that you own another VR headset.
While checking their website a few days ago I noticed that they have a affiliate program going and I decided to join up. Support experience for me with Pimax was good and it has now been almost a year using it and I can not report a bad experience. So I don't have an issue with promoting them.
With the new comfort headsets the Pimax headsets are comfortable to wear and also audio is pretty good. I can not compare it to the Index though, since I never used one. I upgraded my 5K Super to the KDMAS Earphones and the upgrade was worth it.
At the moment Pimax also has a promotion going with high rebates and a full trade-in program for their upcoming 12K standalone headset that is coming out late this year (if the chip shortages don't delay it 😉 ).
If you are interested in the 5K Super, that i use, use this Link.
In case you are interested in the 8K X use this Link instead.
When buying through one of these links I am getting a small kickback for the referral.
Feel free to hit me up with questions either here in the comments, on Stream, on Twitter or on Discord.